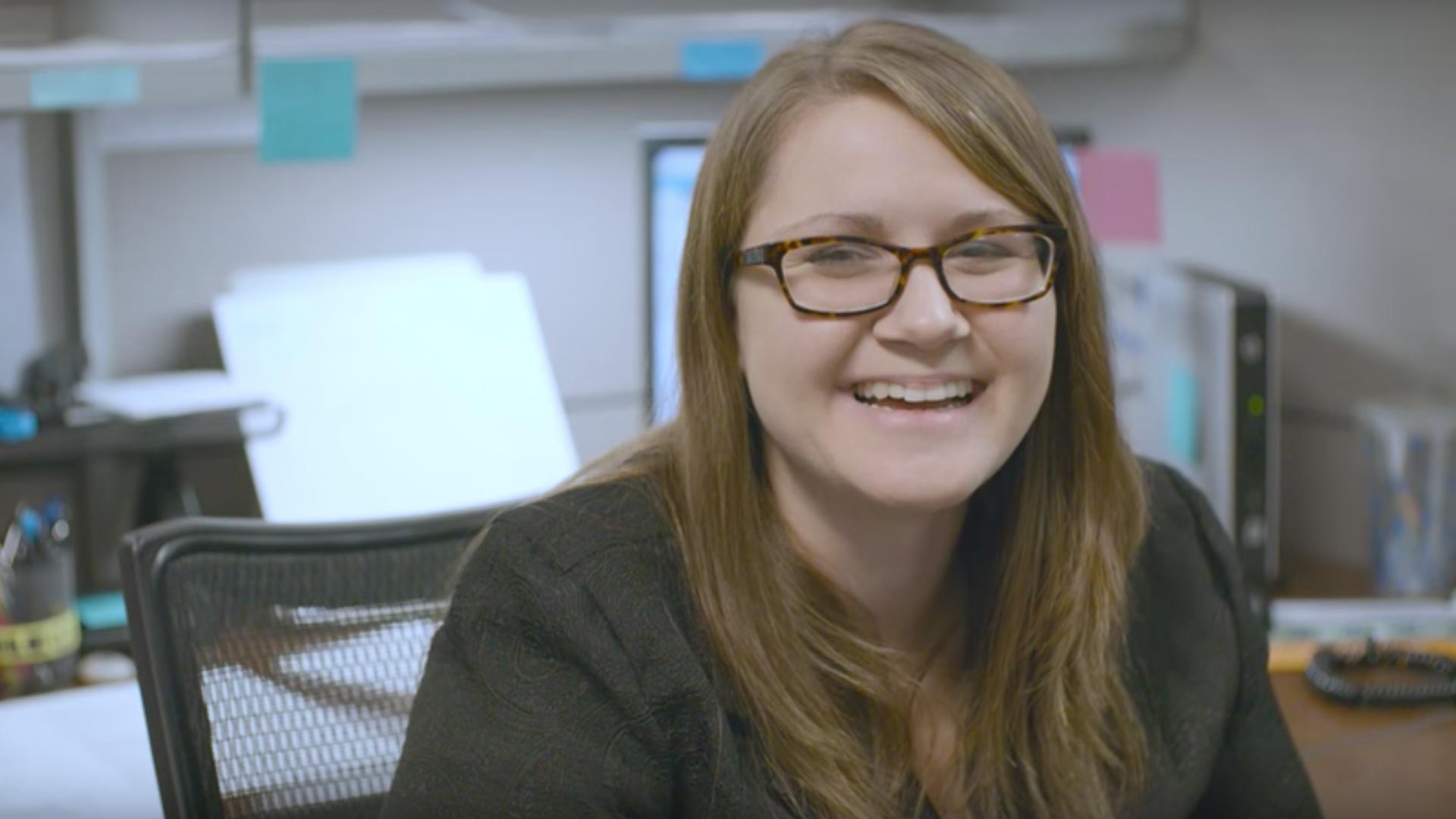 Work Hard and Be Nice to People
What's it like to work at Guernsey?
Holding onto the core values of a family-run business. What does that mean? It means most nights you'll get to tuck your kids into bed. It means we offer straight PTO, so you don't need to worry about sorting through sick leave vs. vacation time when your dog needs to go to the vet.
---
Most importantly, though, it means we're stable—a very attractive quality during the recessions of 1973, 1981, 1990, 2001 and the Great Recession of 2008. When the going gets tough, the tough get going, and that's how we operate at Guernsey. Keeping our costs low mean that we protect our workforce better than most throughout hard economic times. Our commitment to our employees is one of the defining characteristics of the Guernsey organization.
---
---
"Alone we can do so little; together we can do so much."
Here are a few other things to know about us:
We're a growing team.  
We strive to do things right the first time.  
Some of our team members are fresh out of college, others have worked here since the disco era. We think the mix speaks for itself.  
Our career opportunities include jobs for a wide range of talents. Love to drive? Become one of our drivers. Like to be on your feet and moving? Opportunities in the warehouse are well-suited for an active person.  
We promote almost exclusively from inside the company. Our Executive VP of Sales? A former sales rep. One of our top sales reps? A driver—or he was until he crashed the truck, but that's another story. Our Chief Operating Officer? He started out as a branch manager for what was then just a little store in Virginia Beach.  
FlashPoint
Confucius once said, "choose a job you love, and you will never have to work a day in your life." Although he's right, we choose to continue the fun outside of the workplace, too. FlashPoint is Guernsey's employee resource group. Run by the Guernsey team, for the Guernsey team, FlashPoint provides opportunities throughout the year for team members to give back and kick back, through group volunteer projects, as well as social events like apple picking, happy hours, and bowling.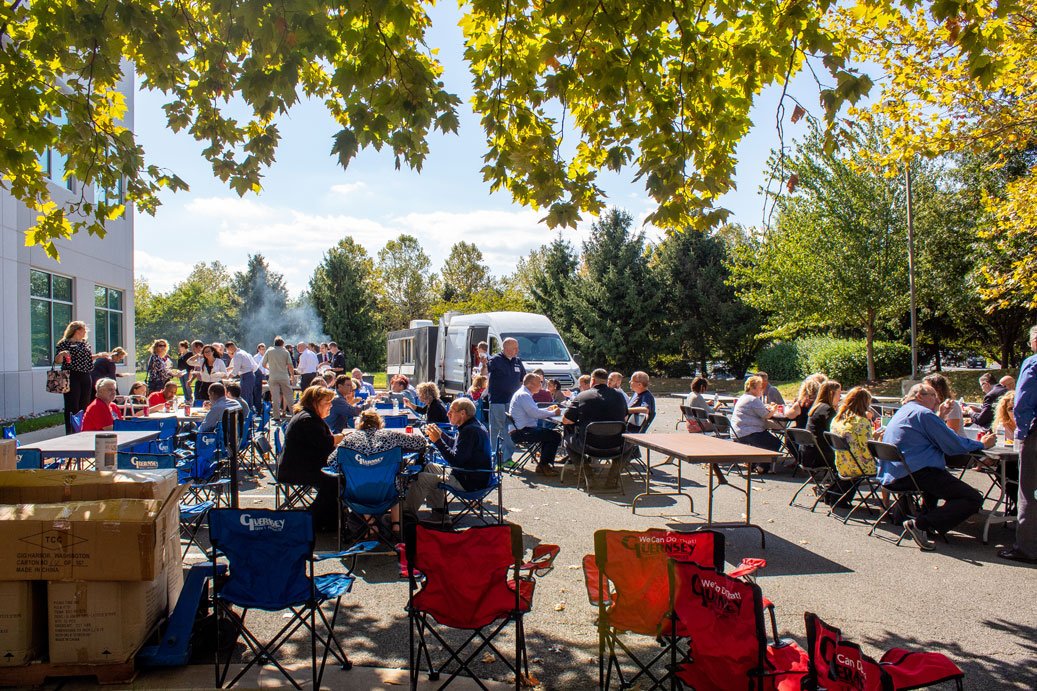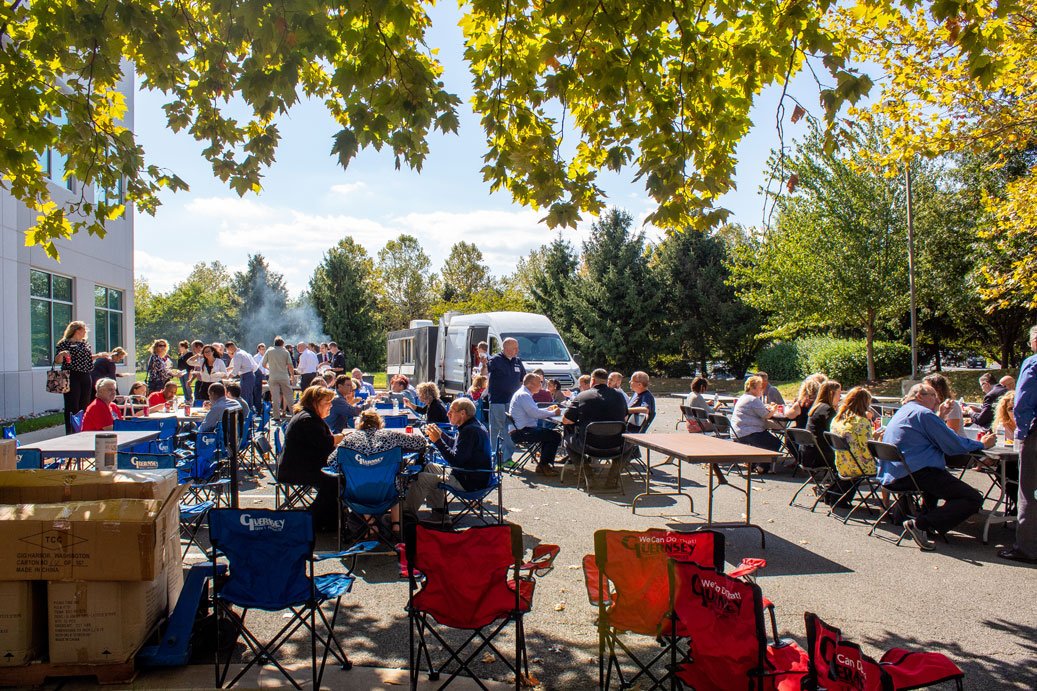 Benefits
Vision, Dental, Life and Health Insurance
Short and long-term disability  
401(k) retirement plan
PTO/Paid holidays
Business Casual Attire  
Casual Fridays
Tuition reimbursement  
Professional Development Group
FlashPoint  
Sound like a place you'd want to work? Check out our job postings on this page!
VIRGINIA
Chantilly, VA

FURNITURE SALES ACCOUNT EXECUTIVE
Interiors by Guernsey, is seeking a Sales Account Executive to sell furniture to corporations, government, educational institutions, and healthcare facilities. Our beautiful new showroom is located in Chantilly, VA. The position generally involves identifying potential leads, following up on leads, initiating contact with potential clients, presenting to clients, closing deals, processing sales documents using our software, and following up with clients after they receive their products. Additional responsibilities include assisting with project management and building relationships with referral sources. Sales Account Executives work closely and cooperatively with our Interior Designers and Installers.
MINIMUM QUALIFICATIONS
• 5 yrs. experience in B2B sales
• Preferably some experience in the commercial furniture industry
• Willingness to prospect and hunt for business
Email Resume to: HR@buyguernsey.com
Pay: Base plus Commission
Insurance, 401K, Paid Holidays, and PTO
Call: 703.968.8200
ACCOUNT MANAGER
POSITION PURPOSE Account Managers are responsible for opening new accounts, providing appropriate service levels to accounts assigned to them, generating profitable business from them while ensuring their satisfaction with Guernsey's programs and performance relative to their purchases of products and services.
DUTIES AND RESPONSIBILITIES
• Meet, or exceed, sales and profit objectives for all products and services as established by sales management
• Open new accounts to increase business (sales and gross profit) each year.
• Retain current accounts and work with them to generate additional profitable business.
• Provide appropriate levels of service to your assigned accounts resulting in a high level of customer satisfaction. Maintain an in depth understanding of each account's requirements and take appropriate action to ensure that they are met to the customer's satisfaction.
• Actively engage customers assigned to you through current technologies and respond to their inquiries and requirements in a timely fashion, to include the ability to make site visits per customer need or company directive.
• Develop and maintain a thorough understanding of company products offerings, services, and resources available to satisfy customer requirements. Continually incorporate these into each customer's program to best meet their specific needs.
• Maintain an understanding and competency in Guernsey proprietary technologies (e.g., Prism, Sales Rep Connect, Guernsey's online ordering systems) as well as other commonly used technologies (e.g., video conferencing, audio visual equipment, social media platforms) and software used in business (Microsoft Word, Excel, PowerPoint).
• Perform all aspects of the job as assigned by management in a timely manner.
• Understand the company policies and procedures and adhere to them.
• Interact with colleagues and clients in a professional, respectful, and courteous manner…and adhere to code of conduct as outlined in company handbook.
• Attend meetings and training sessions as directed by management.
NOTE: This job description is meant to serve as a guideline for the general tasks of position. Other tasks and responsibilities may also be required as assigned.
KNOWLEDGE, SKILLS, AND ABILITIES
Willingness to meet new people and establish rapport quickly
Excellent customer service skills (friendly, courteous, helpful)
Computer proficiency and aptitude to operate commonly used technologies
Ability to work effectively in a team environment with colleagues
Ability to effectively plan and set priorities to reach goals
Strong analytical skills and attention to detail
Excellent communication and organization skills
Full understanding of company policies and procedures
Ability to travel to company meetings, functions, events, and offices at various geographic locations
PHYSICAL DEMANDS The physical demands described here are representative of those that must be met by an employee to successfully perform the essential functions of this position. Reasonable accommodations may be made to enable individuals with disabilities to perform the essential functions. The employee is regularly required to use hands and fingers to operate a computer keyboard; reach with hands and arms; talk or hear, stand, walk, and sit. The job includes extensive use of close vision to endure long periods of time looking at a computer monitor and working with paperwork. The job also includes frequently moving to and from Guernsey offices and traveling to customer locations.
RESPONSIBILTY AND DECISION-MAKING AUTHORITY The employee is empowered to satisfy customer needs by assigning resources and services to them that fall within the scope of those we regularly make available to our customer base. Extraordinary commitments of resources must be approved by Guernsey management prior to offering to the customer.
WORKING RELATIONSHIPS The employee will work with the customer service staff, and members of other departments, who will provide them and their clients with support. In addition, the employee will report directly to a member of the Guernsey sales management team, depending on the office to which they are assigned.
OTHER REQUIREMENTS
Transportation – The employee must have the means to visit customer site locations throughout their geographic area of emphasis to meet customer and company expectations.
Communication – The employee must be accessible by phone, email and all commonly used devices and platforms to provide a responsive level of service to their customers
Sound like the kind of people you'd like to work with?
Drop us a line, give us a shout, send us a telegram – whatever works for you, we'll make it work for us!