We Can Do That, We're Guernsey!

Here at Guernsey we say "Yes" whenever we can do something to make life easier on you, our clients, and partners.
Our Goals Are Simple
Through our supply chain and procurement management services, we provide the lowest total cost solution for products and services in the workplace. We offer the accountability and reliability the modern world demands, all while offering our customers a friendly, "small business" experience.
---
What We Sell
By carrying an enormous selection of office supplies, cleaning equipment, technology, and more, we have the solution to every problem. From coffee brewers and water dispensers to First Aid and janitorial supplies, our products maintain productivity, comfort, and safety wherever they are in use. We even offer fully customizable promotional products to cheer on the home team or reward high achievers!
Who We Serve
In a word: Everyone. We are proud to offer lowest cost total solutions to businesses, schools, healthcare providers, government offices, and any organization that can benefit from some behind-the-scenes assistance.
Our Midatlantic Community
With locations from Virgina Beach, VA to Harrisburg, PA we bring a personal, small business feel to a wide range of communities. Our locations in the Baltimore and DC Metro Areas make us a valued supplier for government offices, corporate workplaces, and anyone who could use a touch of Guernsey.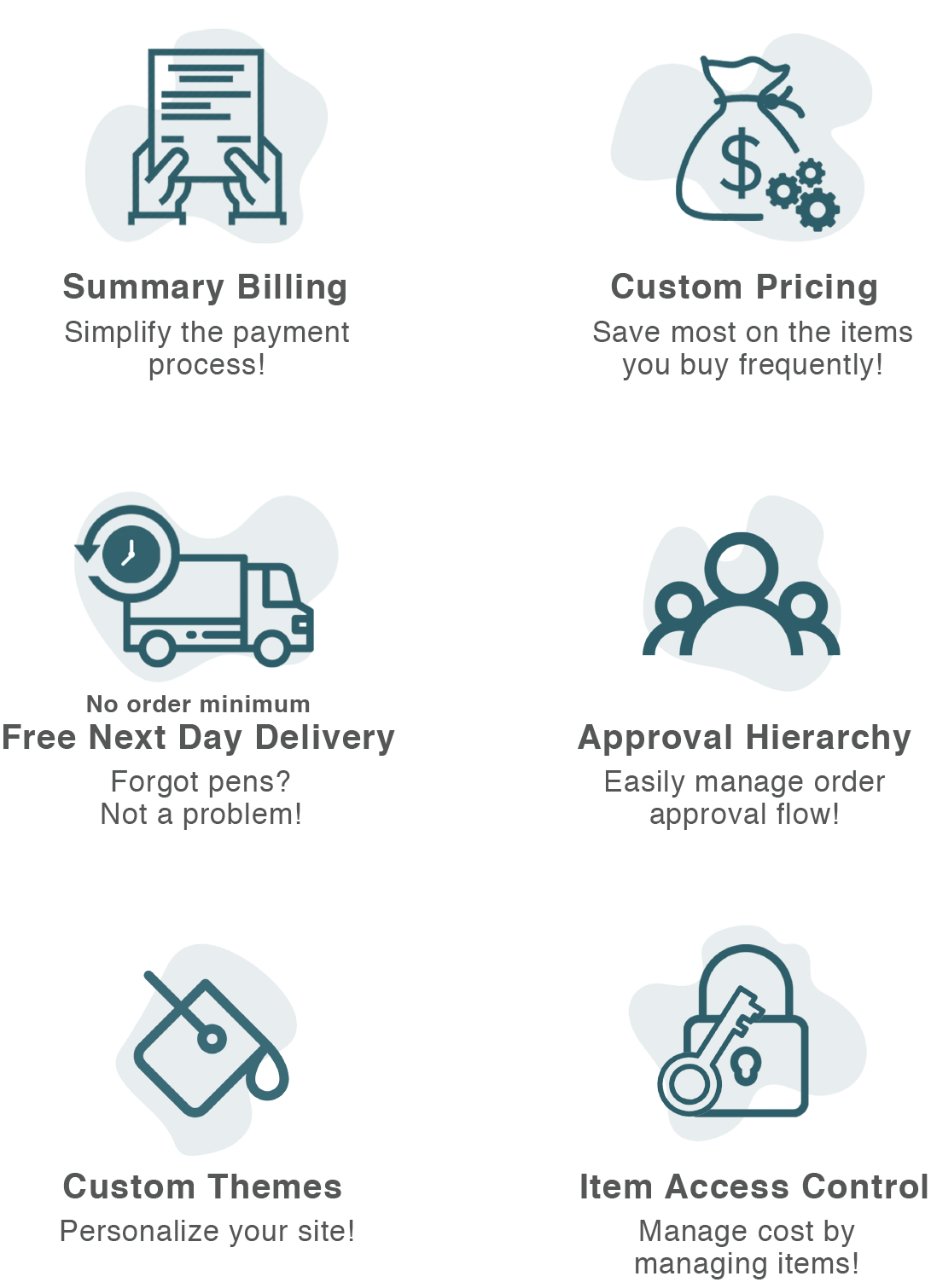 Sharing Success Stories
We could talk about what makes Guernsey great all day! But you don't have to take our word for it! Here are excerpts from some of our most recent successes:
"For many years we have been beyond pleased with the 5-Star Customer service and the selection of products!"
"Always ready and available to address our every question and concern."
"The supplies I need are very hard to come by. (Account Manager) Steve Batts texting and emailing me has allowed me to slowly stock up over the last few months. "We have already (with just a first small order) realized a $36 savings with Guernsey!"
Products are "less expensive and is of the same quality if not better!"
"I recognized my driver from an earlier delivery!"
By offering our customers:
Summary Billing
Custom Pricing
Free Next Day Delivery
Approval Hierarchy
Custom Themes
Item Access Control
We ELIMINATE the time and energy you spend on:
Price Checking
Acquisition
Storage
Distribution & Delivery
Accounting
"Guernsey's dedication to delivering excellent customer service over the course of our professional relationship has consistently aligned with our firm's values in providing a 5-Star experience to our clients. Just as Guernsey services a variety of needs, Price Benowitz LLP provides legal representation in many areas of the law, including personal injury, trusts and estates, criminal defense, and immigration. Price Benowitz LLP is proud to partner with Guernsey and looks forward to continuing our professional relationship built on trust and commitment to our respective clients' needs."

 

 

"It means a lot to have a vendor care so much about our relationship and business needs. Sincerely

from the bottom of my heart

, thank you a million times over. You are such a pleasure to work with."

"Mr. Wolf was so kind and thoughtful and that is what we need in this world nowadays. So please know that we are so grateful to have someone like him helping us!"
Sound like the kind of people you'd like to work with?
Drop us a line, give us a shout, send us a telegram – whatever works for you, we'll make it work for us!